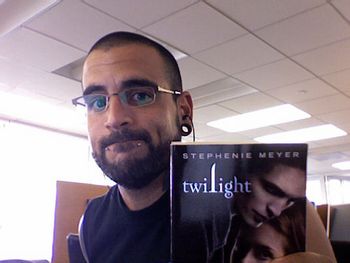 [T]he real issue here [is that]
Twilight
fans, most especially Twi-hards, have ruined the book for thousands of people who have never even read a page simply by being annoying. That's why I'm here: fan, I'm going to read the book for you.
—
Mark Oshiro
,
in their introductory post
.
In the blog of Mark Reads Twilight, WHYYYYYYYYYYYYYYY WHYYYYYYYYYYYYYY WHYYYYYYYYYYYYYY WHYYYYYYYYYYYYYYYYYYYYYYYYY OH GOD WHYYYYYYYYYYYYYYYYYYYYYYYYYY why WHY why why, why WHY. Intrigued? Then it's time for Mark to read Twilight.
In August 2009, Mark "PanasonicYouth" Oshiro, then community manager of the blogging network Buzznet, decided to see what all the fuss was about with those Twilight books.
The result was a completely unique journey that was part MST, part After-Action Report, part Review Blog, and part autobiography comparing the events in Mark's life to the story in the books. Initially holding a somewhat neutral view of the series as literature before they began to read it, Mark slowly began to go mad as they progressed through the series. Somehow they got through all five books (yes, even Midnight Sun).
They eventually started another blog with the same format, Mark Reads Harry Potter, before continuing into other books, movies and media at Mark Does Stuff.
In October 2015, changes to the Buzznet platform resulted in all of their Twilight and Harry Potter reviews being removed from the internet. They are still available for purchase at their online store, MarkDoesStuff.com.
---
The blog and its fanbase provides examples of the following tropes:
---