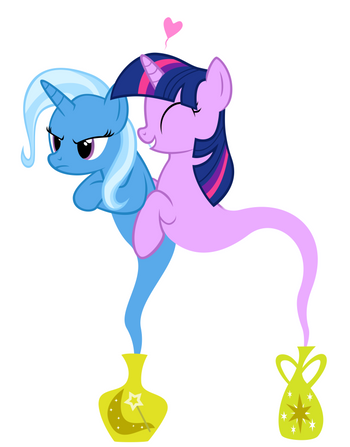 Ask Twixie Genies
was an Ask a Pony Tumblr webcomic by NavitasErusSirus
, based on My Little Pony: Friendship Is Magic.
The basic plot: Twilight Sparkle was tricked into becoming an immortal, wish-granting genie, and became trapped in a bottle in a cave in the frozen north of Equestria. She was stuck there alone for weeks until Trixie Lulamoon happened upon the cave. Naturally, Trixie took the opportunity to immediately abuse Twilight's wish-granting power, not realising that genies are able to twist the meaning of wishes in quite undesirable ways.
Trixie's final wish ("I wish to be powerful! Like you!") gets Trixie turned into a genie herself, with the result that both Twilight and Trixie are now stuck in the cave. They now share a bottle, and are rather blatantly in love with each other.
The comic runs on a mix of the Fourth-Wall Mail Slot and Twilight/Trixie Shipping, with occasional story arcs which go into the backstory of Twilight and Trixie's predicament. The two genies will accept wishes from Tumblr users, as long as they use the phrase "I wish" (with the sole exception of trying to give Trixie wheels).
The personalities of Twilight and Trixie differ somewhat from their canon personalities, with Twilight being noticeably more assertive and Trixie being rather more restrained. In-Universe, this is explained as an effect of the ordeals they went through in becoming genies.
You can read the main Twixie Genies posts in chronological order here
.
The blog finished up in May 2015 with a written explanation of how the series concluded due to the author's life becoming too busy to continue it further. Sadly, shortly afterward, the website was hacked, and the blog now no longer exists on the Internet.
---