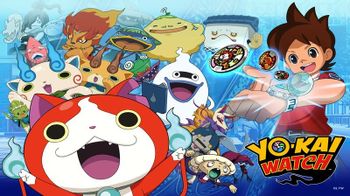 "Unexplained occurrences happen every day. But if you possess the "Yo-kai Watch" you will have the amazing and rare ability to see the elusive "Yo-kai": invisible, spirit-like entities responsible for life's daily annoyances. But beware: When a Yo-kai enters your life, things will never be quite the same."
The Animated Adaptation of the popular Yo-kai Watch video game series.
The series is about an eleven year old boy named Nate who finds a capsule machine while looking for bugs in the woods. When he opens a capsule from the machine he releases a Yo-kai named Whisper, who decides to become his butler out of gratitude. He later gives Nate the titular Yo-kai Watch. The Yo-kai Watch enables Nate to see other Yo-kai by shining a light on them. Using Yo-kai Medals, gained from befriending Yo-kai, Nate can also summon Yo-kai, to battle other Yo-kai who are causing trouble in the neighborhood.
Overall very successful for a children's anime, the series boasts several movies and quite a few international dubs.
The anime continuity includes a Darker and Edgier spinoff title starting in late 2017, called Yo-kai Watch: Shadowside. It centers around Keita/Nate's daughter and son, Natsume and Keisuke, as they go around solving spiritual cases surrounding Yo-kai that can now switch from the harmless looking "light side" and the dangerous "shadow side" forms. The series began with the fourth main series movie Yo-kai Watch: Shadowside - The Return of the Oni King before getting a television series of its own.
Another spinoff title, Yo-kai Watch Jam - Yo-kai Academy Y: Close Encounters of the N Kind, which focuses on a High School AU featuring Jibanyan as a teen transforming superhero, began in 2019. Like Shadowside before it, Y began as one of the annual movies (Yo-Kai Academy Y: Can a Cat Be a Hero?) before being made into a television anime that premiered later in 2020.
On April 2019, a reboot debuted with Nate returning as the main focus and concluded on December of that year. A second reboot aired from April 2021 to March 2023.
---
Yo-Kai Watch provides examples of:
---
---