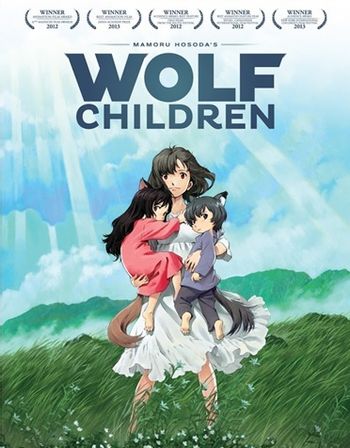 "You might think this sounds like a fairy tale. You might even laugh at my story. You probably think that stuff like this just doesn't happen. But everything I tell you is true. This is the story about my mother, and the wolf man she fell in love with."
—Yuki
Wolf Children Ame and Yukinote just Wolf Children in the English market is a 2012 anime Slice of Life film by Mamoru Hosoda — director of Digimon: Our War Game, The Girl Who Leapt Through Time and Summer Wars — about a young woman named Hana (Aoi Miyazaki) who falls in love with her mysterious college classmate (Takao Osawa) who is actually a Wolf Man. The couple produce two children who also possess their father's lineage; the big sister Yuki (Haru Kuroki), who was born on a snowy day, and the little brother, Ame (Yukito Nishii), who was born on a rainy day.
The wolf man suddenly dies one day, leaving Hana to raise the two wolf children herself and struggle to keep their secret. But when the family is threatened by eviction, child services, and neighbors annoyed by Ame's constant crying (and often both children's howling, which the landlady mistakes for pets), Hana decides to move out to the secluded countryside where her kids can roam free.
The film also stars Takuma Hiraoka as Sohei Fujii and Bunta Sugawara as Grandpa Nirasaki.
---
This film provides examples of:
---