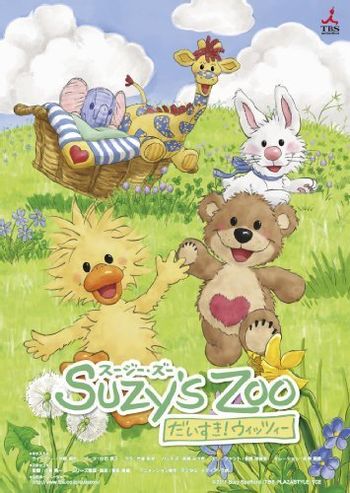 Suzy's Zoo: Daisuki! Witzy (スージー・ズー: だいすき!ウィッツィー, lit. Suzy's Zoo: I Love Witzy!) is a set of 26 anime shorts produced by Tokyo Broadcasting System, based on the Little Suzy's Zoo franchise by Suzy Spafford, in 2011. Despite being CGI, the art style of the anime successfully captures the beautiful pencil and magic marker styles that the franchise is famous for.
Meet Witzy (ウィッツィー), a little duckling with a big imagination and an impressively large heart to match. His friends are his old trusty plush teddy bear Boof (ブーフ), his musical plush rabbit Lulla (ララ), his loyal and brave plush giraffe Patches (パッチズ), and his new plush Elephant, Ellie Funt (エリーファント), who joined the series shortly after it started. The series is primarily set in Witzy's backyard, but other locations, like Witzy's bedroom, a grassy field, and a pond-side, are also sometimes shown.
The shorts air on BabyFirstTV in the US, during the BabyFirst Club slot, as Suzy's Zoo: A Day With Witzy, and on the HiT Entertainment-owned JimJam channel in Europe. It is also officially available through the Toon Goggles streaming service, while BabyFirstTV themselves have expressed interest to include the show in their streaming app as well. All 26 of the shorts were released on a DVD as well, which is readily available cheaply from most sources that sell such DVDs.
The episodes are also on Google Play TV
and YouTube's Premium channels
if you live in a country that where the services are available, though they apparently weren't paying attention and have copied the description for the series from the official website for the original Suzy's Zoo franchise, rather than the Little Suzy's Zoo franchise on which the series is actually based.
---
Suzy's Tropes: Daisuki! Witzy:
---