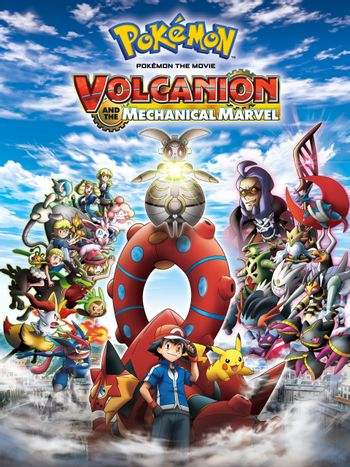 Volcanion and the Mechanical Marvel is the nineteenth Pokémon film, the final film for the XY saga and the second to be written by Atsuhiro Tomioka. As the title says, this movie stars Volcanion and Magearna — the latter debuting ahead of its appearance in Pokémon Sun and Moon. It was released on July 16, 2016.
While on their journey, Ash and friends are surprised by the Mythical Pokémon Volcanion falling from the sky. Though the human-hating creature tries to leave, it and Ash are bound together by a mysterious force generated by cuffs attached to both of them. Volcanion's goal is the gear-littered city of the Azoth Kingdom, where Alva, a corrupt cabinet minister, has kidnapped Magearna from the plains where it and Volcanion reside, with the intention of using the power of the Pokémon's Soul-Heart to take control. Volcanion's none too chuffed about this, and plans to take Magearna back, even if it means having a human tag along with it.
Since Pokémon: I Choose You! explicitly takes place in an Alternate Continuity, Volcanion and the and the Mechanical Marvel is also the last film to take place in the main continuity that began with Pokémon: The First Movie in 1998. In many European markets and the United States, the film premiered on TV, and in many cases was packaged with the first two episodes of the Sun & Moon anime. In the U.S. specifically, this marked the series' move to Disney XD on December 5, 2016.
Volcanion and the Mechanical Marvel provides examples of the following tropes: