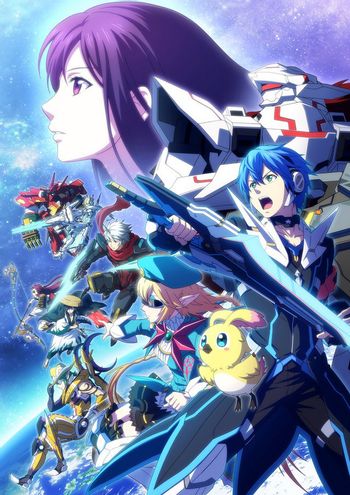 Developed as the 8th project as part of the 15th anniversary celebration of the original Phantasy Star Online, Phantasy Star Online 2: The Animation is an original 12-episode Slice of Life/Science Fiction anime based on the popular MMORPG Phantasy Star Online 2.
In the year 2016 AD, a new particle known as Ether was made known to the world, capable of lightning-fast data transfer unlike anything the world had seen. It is now 2027 AD, where from Ether the "Ethernet" was born, a revolution in internet technology where anyone, anywhere has access to high-speed internet. In the country of Japan, the operating system "ESC-A" introduced a massively multiplayer RPG known as Phantasy Star Online 2, which is now a national phenomenon played by youth to old. Itsuki Tachibana, an average high school student with no interest in the so-called "PSO2", is suddenly dragged into the world of online games when the Student Council President, Rina Izumi, recruits him to prevent the banning of PSO2 on Seiga Academy school grounds. However, the game's rising popularity has also brought with it a rise in mysterious disappearances that are resolved as fast as they occur. What connection do they have with Phantasy Star Online 2, and how is the strange transfer student Aika Suzuki linked to the darkness on the horizon?
The anime ran on Japanese television between January 7th, 2016 and March 31st, 2016. An official English subtitled broadcast was launched by Crunchyroll on January 9th, 2016 and ran through April 1st, 2016. It was licensed for an English release by Sentai Filmworks (much to the dismay of those still waiting for the game, at least for three more years).
Now has a character sheet in progress.
If you're looking for the direct adaptation of Phantasy Star Online 2, go to Phantasy Star Online 2: Episode Oracle.
---
Phantasy Star Online 2: The Animation provides examples of:
---