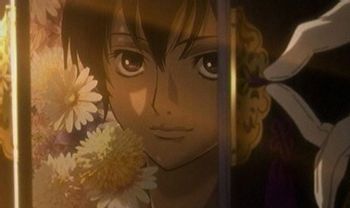 Mouryou no Hako (Box of Goblins) is a relatively obscure anime revolving around boxes, based on the second novel in Natsuhiko Kyogoku's Kyogokudou series.
The year is 1952. Japan is still struggling to get back on its feet after its crushing defeat in World War II. The old folk beliefs are slowly being overshadowed by emerging modernization. And amidst the lonely hills and fields on the outskirts of Tokyo, boxes containing the severed arms and legs of unknown female victims keep turning up. A small private detective agency gets involved in the investigation, and along with them, a very different sort of detective: the coldly skeptical onmyouji, Chuuzenji Akihiko.
Meanwhile, a young girl named Yuzuki Kanako has gone missing. Her troubled schoolyard friend Yoriko witnessed her falling into a moving train late at night, pushed onto the tracks by a mysterious gloved assailant. Kanako was taken to a strange box-shaped hospital deep in the nearby hills, only to disappear from her hospital bed as if transformed into air. Her washed-up actress sister has employed haunted ex-soldier Detective Kiba to find the severely crippled girl before it's too late.
And in the pages of an up-and-coming novelist's newest work, a man on a train encounters a gloved passenger carrying a box with a human head inside of it. A head that is, beyond all reason, alive.
Despite gorgeous animation courtesy of Madhouse, and a plot adapted from one of the finest supernatural mystery novels in recent years, this series is still sadly below many people's radars.
---
Provides examples of:
---