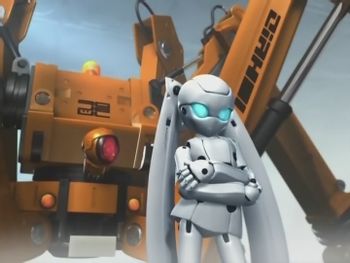 Gedächtnis: Did you learn capoeira?
Drossel: It's karate.
Fireball is a series of 2-minute-long anime shorts depicting the antics of robot girl Drossel and her gigantic, one-eyed robotic servant Gedächtnis, who dwell in a mansion in the center of a huge robot city, somewhere in the 486th century. Later the duo is accompanied by Schadenfreude, a robotic monkey of sorts.
Drossel looks like the robotized version of a pigtailed spoiled princess and pretty much behaves that way, complete with stylized poses. The discussions she has with Gedächtnis are generally nonsensical, with lots of emphasis on speed of delivery and flights of fancy, although occasionally they become more serious in tone.
The series was produced in 2008 by Toei Animation and Jinni's Animation Studio in cooperation with Disney Studios and is notable for the usage of pure 3D imagery, a phenomenon that was rare among anime at the time.
A second season, subtitled Charming, aired in April 2011 as a prequel.
A third season—this time of only three episodes—subtitled Humorous, aired sometime in 2017.
Fireball Gebäude Bäude was released on Disney Channel and Disney+ in November and December 2020
.
Don't confuse with Fireballs, Fire Ball, or "Fireball."
---
This series provides examples of:
---