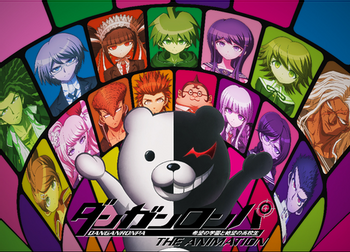 Danganronpa: The Animation
is a 2013
anime adaptation
of
Danganronpa: Trigger Happy Havoc
.
Like the visual novel, the anime follows sixteen elite high school students trapped inside Hope's Peak Academy by their sadistic bear headmaster, Monokuma. The students cannot break any of the rules on pain of death, but there is one way to leave: murder another student and be found not guilty in the subsequent class trial. If the class deduces the real murderer, they will be put to death, but if the murderer is not caught, the class will be put to death and the murderer can leave.
Unlike the rest of his classmates, Makoto Naegi is an Ordinary High-School Student randomly selected to join Hope's Peak as the "Ultimate Lucky Student". Makoto teams up with his classmate Kyoko Kirigiri, an aloof teenage detective, to solve the murders that occur and piece together the circumstances that led them to be trapped in Hope's Peak.
An anime sequel to the first two games, Danganronpa 3: The End of Hope's Peak High School, aired in 2016 to wrap up the Hope's Peak arc.
---
Danganronpa: The Animation provides examples of:
Shower of Angst: Makoto has a very detailed shower in episode 4 while recalling the first murder and trial.
Side-Story Bonus Art: A lot of it was made during the anime's run, often for use in magazines (including some that were Summer and Halloween themed despite the game taking place no where near those dates).
---