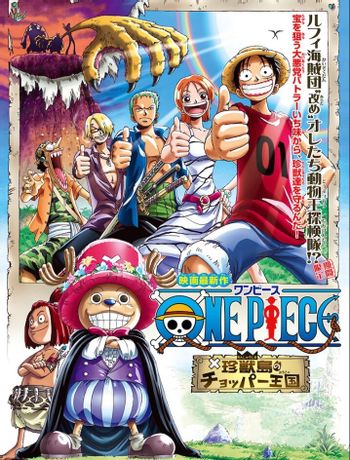 Chopper's Kingdom on the Island of Strange Animals is the third One Piece film in the long-running franchise.
As the title suggests, Chopper takes the spotlight in this one as the Straw Hats manage to make their way to Crown Island in search of the legendary Crowning Treasure Horns. However their arrival coincides with the death of island's ruler, Kirin Lion, much to his adoptive son, Mobambi's, dismay. As such the island waits for it's new ruler signaled by geysers around the island (hence the name Crown Island). The Straw Hats wound up caught in one of the geysers and sent flying where Chopper is thrown off the Merry Go. He lands right in front of Mobambi and the animals who believe him to be the next king since he "fell from the sky".
Meanwhile the Straw Hats, after landing safely, begin their search for Chopper. Coming across a suspicious individual, Count Butler, and his cohorts who are also after the the Crowning Treasure Horns and killing the island's inhabitants to find it. What follows is a race to get to Chopper before Butler does and try to prevent the poacher from getting his hands on the horns.
---
Tropes:
---