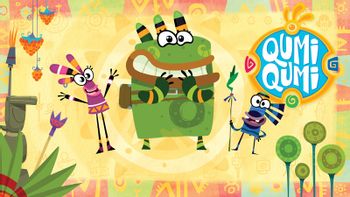 Qumi-Qumi ("Куми-Куми") is a Russian children's cartoon created by Toonbox (best known for the Cut the Rope cartoons). Based around a small comic book from 2005 that eventually made it into a small music video in 2007, and eventually into a full-fledged cartoon in 2011, Qumi-Qumi tells of three different tribes: the magic-based tribal Juma-Qumi, the science-based capitalist Yumi-Qumi, and the militaristic and communistic Schumi-Qumi. Three young outcasts of each tribe, Juga, Yusi, and Shumadan, manage to break out of their social norms and become close friends.
The speech of the characters is a gibberish language known as Tarabar (though with its own specific words) peppered with various English phrases. Many plots relate around Juga and Shumadan's crushes on Yusi and trying to interact with their respective tribes despite their own faults.
The series is now available for viewing on the Angry Birds Toons channel found in every app game. Episodes are also freely available for online view
.
---
Qumi-Qumi provides examples of:
Our Zombies Are Different: The episode "The Zombie" features two voodoo dolls owned by Bai-Baba which, through magical joystick-like crystals, can be turned into giant zombies that do the controller's biddings. If the crystals are broken, their souls latch into their bodies, giving them free roam…and a dangerous temper.
Punny Name: Shumadan's name is similar in pronunciation to "chemodanom", the Russian word for "suitcase", as in his knapsack.
Recurring Extra: A Cyclops bird that bears a very striking resemblance to the Toonbox logo.