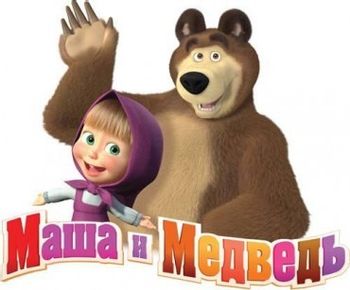 Masha and The Bear (Russian: Маша и Медведь, Masha i Medved') is a 2009 Russian animated television series based loosely on the Russian folk tale of the same name (analogous to Goldilocks).
The series focuses on the adventures of a precocious and mischievous little girl named Masha, and The Bear who is a grandfatherly retired circus performer that tries to keep Masha out of trouble.
Masha lives in a house in the middle of a Siberian forest. One day when she wants to play with the animals in her farm, they all hid away because they were afraid of her. She then sees a butterfly and follows it into the forest, ending up at a house which turned to be The Bear's. The bear, who has been out fishing, comes home to find that Masha has made a mess. He tries to keep Masha out but she persists. At nightfall, The Bear sends Masha outside, but when he realizes the dangers of her walking alone at night, he searches for her and welcomes her back, and they both became good friends. This is the beginning of many adventures.
Despite being a children's animated series, the animation is breathtakingly beautiful and surprisingly professional compared to the usual animation in children's shows. The show can be enjoyed by children, adults, and even animation enthusiasts who love to watch the intricate details and wonderfully colorful animation.
The show is also noteworthy for being a HUGE hit on YouTube. Many episodes have got above 200 million views, with Episode 17 getting 4.25 billion, making it one of the most viewed videos of all time! Episode 24 also surpassed 1 billion views as well which makes the series the only non-music artist to have two videos that exceed a billion views each.
The series is available on YouTube in Russian (Seasons 1
, 2
) and English (Season 1
). note There might be a few episodes missing for English. In the US, it can also be watched on Netflix or Universal Kids.
Contrast Nu, Pogodi!, a famous Russian cartoon where the duo doesn't get along. Not to be confused with the British cartoon Eddy & The Bear.
---
Masha and The Bear provides examples of:
---