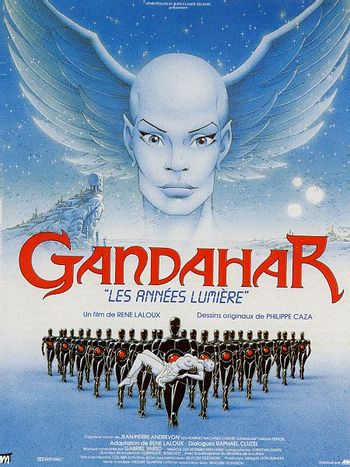 In a thousand years, Gandahar was destroyed. A thousand years ago, Gandahar will be saved.
Gandahar (known as Light Years in English) is a 1988 animated film by the master of French arthouse animation, René Laloux, based on Jean-Pierre Andrevon's French Science Fiction novel Les Hommes-machines contre Gandahar (The Machine-Men versus Gandahar).
In the distant future and on a distant planet, the people of Gandahar exist in peace and harmony with nature and each other. This blissful existence is interrupted when Gandahar is attacked by bizarre, man-machine enemies who capture civilians and take them through a portal encased in metal to be brainwashed. Queen Ambisextra and her loyal Council of Women choose Sylvain, a young warrior, to scout the cause of this. He travels the land in search of the cause with young beauty Airelle, eventually falling in love with her. Along the way, they meet mutants and the giant mutant brain Metamorphis.
The history of the movie is odd and star-studded. After the success of the equally bizarre Fantastic Planet, Laloux spent years trying to get the Gandahar project off the ground. He didn't succeed until a North Korean animation studio unexpectedly offered to animate his movie on the cheap. Harvey Weinstein picked up rights for the American release and had Isaac Asimov (yes, the Isaac Asimov) write an English translation. Definitely not a cartoon for the kiddies, Gandahar has been released in the "Masters of Cinema" series without any Region 1 DVD to date.
---
Gandahar contains examples of:
Did They or Didn't They?: In both the original and the censored English dub. The original has a shot of Sylvain taking his shirt off and then later completely naked as he's snuggling up to Airelle (who's also completely naked) while she talks about how the circumstances have brought them together and she's fallen in love with him, but the English dub cuts this and simply goes to the next morning with him and her both walking around shirtless. Even in the original, this leaves some question of whether there's a Sexy Discretion Shot in there or not, since their "bed" didn't have any sheets (and they'd need to snuggle up to each other to stay warm), Airelle didn't start out wearing very much, Sylvain's shirt had suffered some Clothing Damage, and the people of Gandahar in general seem to spend a lot of their time naked anyway. Nothing more is clarified about the nature of their relationship in either version.
Fanservice: Some of the rather weird artsy French sort...
Finger Firearms: The Metal Men have petrifying energy weapons built into their index fingers.
Future Me Scares Me: Metamorphis realizes the Metal Men come from his insane future self and orders Sylvain to kill him 1,000 years hence.
Golem: Implied to be the true nature of Metal Men. As Sylvain notes while inspecting a dismantled Metal Man, they are completely hollow, having no circuitry or endoskeleton, being powered solely by a small organic tissue sample which came from future Metamorphis.
In Case You Forgot Who Wrote It: Marketing for the English dub called it "Isaac Asimov's Light Years" since he translated it, although certainly didn't write it.
Lady Land: Society ruled by Queen Ambisextra and her Council of Women.
Mecha-Mooks: The Men of Metal.
---