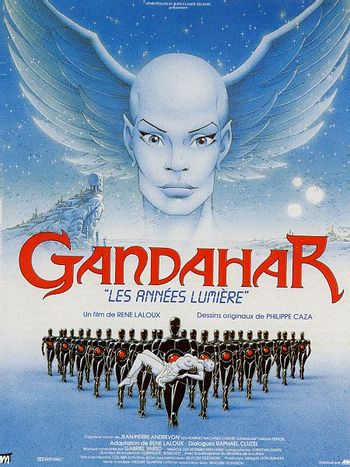 In a thousand years, Gandahar was destroyed. A thousand years ago, Gandahar will be saved.
Gandahar (known as Light Years in English) is a 1988 animated film by the master of French arthouse animation, René Laloux, based on Jean-Pierre Andrevon's French Science Fiction novel Les Hommes-machines contre Gandahar (The Machine-Men versus Gandahar).
In the distant future and on a distant planet, the people of Gandahar exist in peace and harmony with nature and each other. This blissful existence is interrupted when Gandahar is attacked by bizarre, man-machine enemies who capture civilians and take them through a portal encased in metal to be brainwashed. Queen Ambisextra and her loyal Council of Women choose Sylvain, a young warrior, to scout the cause of this. He travels the land in search of the cause with young beauty Airelle, eventually falling in love with her. Along the way, they meet mutants and the giant mutant brain Metamorphis.
The history of the movie is odd and star-studded. After the success of the equally bizarre Fantastic Planet, Laloux spent years trying to get the Gandahar project off the ground. He didn't succeed until a North Korean animation studio unexpectedly offered to animate his movie on the cheap. Harvey Weinstein picked up rights for the American release and had Isaac Asimov (yes, the Isaac Asimov) write an English translation. Definitely not a cartoon for the kiddies, Gandahar has been released in the "Masters of Cinema" series without any Region 1 DVD to date.
---
Gandahar contains examples of:
---