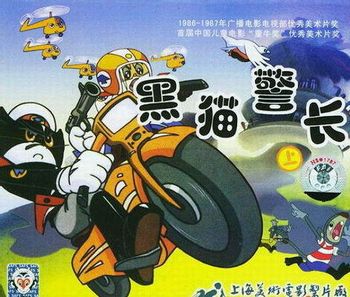 Black Cat Detectivenote (Chinese: 黑猫警长; Pinyin: Hēi, Māo Jǐng Zhǎng, also known as Cpt. Black or Mr. Black), based on the novels by Zhu Zhixiang, is a Chinese animated children's television show made from 1984 to 1987. It's beloved by children and adults alike.
The show largely consists of Hei Mao kicking ass and taking names. Hei Mao is not unlike Dirty Harry, except that instead of being a cop who is committed to justice but not the rules, he's committed to justice in a world that has no rules. Hei Mao has a Badass Crew of other cats and pigeons who are very competent and disciplined. The other most frequent character seems to be known only as OneEar, an evil mouse who wears a bandage on his head because he lost his left ear during a police raid. The mice, on the whole, are thieving, evil, dirty and greedy.
The show is quite different from American children's shows because characters, both good and bad, frequently get permanently killed as animal behaviours are usually plot points for this show. Just one example would be the scene where a couple of baby animals get eaten alive by an eagle.
The animation series ended on a cliffhanger, which wouldn't be continued until the movie came out in 2014, 20 years later.
---
Tropes:
---