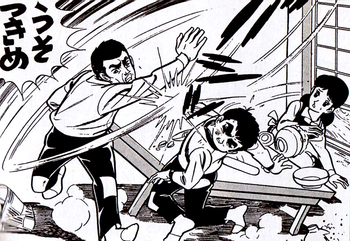 .hack//SIGN: Tsukasa's real-life father apparently despised the fact that she was a girl, slapped her at a police station when she was caught trying to steal a bra, and killed a kitten that she was trying to raise in a box in an alley. Word of God says that he's also the man who tried to turn off her life support system in the real world.
Ai Yori Aoshi: After his father's death, the Hanabishi family forced Kaoru's mother to give Kaoru up to them for the sole purpose of raising him to be their next heir. Kaoru suffered years of physical and emotional abuse at the hands of his paternal grandfather, which culminated in said grandfather burning all of his mother's possessions and photos; when Kaoru tried to stop him, the old bastard beat him with a wooden cane, leaving his back Covered with Scars. Sometime after this incident, Kaoru ran away from the Hanabishis and severed all ties with them for good. In any event, the fact that Kaoru remains such a Nice Guy after everything his grandpa put him through definitely qualifies him for sainthood.
Alice & Zoroku anime and manga both feature this trope:

The Hinagiri twins were abused by their father when they were younger. This eventually reached the point that Yonaga killed their father with her bow in self-defense.
Hatori Shikishima's mother becomes this when Hatori fails to get into a prominent school that her mother pushed for. It grows to the point Hatori's mother becomes emotionally abusive towards her daughter and added stress worsens when her parents begin fighting constantly. Hatori considers running away from home at first until

she discovers her magic can manipulate her parents

. For Hatori though things do turn around, it was clear her mother was worried sick when

Hatori vanished into wonderland for ten days, plus she frantically searched for Hatori in that time.

Alice in Borderland:

Arisu's father, a superintendent in the education department, intensely dislikes Arisu because he considers him a really stupid person and always compares him to his more competent younger brother, who is a honor student. As a result, his father often neglects him. He also meddles with Arisu's life, such as moving the teacher to another school in order to stop Arisu's new hobby even though said teacher influenced him to become an aspiring guitarist.

Kuina's father is a strict Dojo master as he trains her harshly and, at one point, he always scolds Kuina because she doesn't deliver a final blow against her opponent in training and sometimes beats her up to the point she ends up changing her sex in a sex reassignment surgery to become a girl. It was also revealed that Kuina's father also divorced her mother when the latter was sick.

Aguni's father is an alcoholic who repeatedly abuses his son and wife when he is returning home carrying another drink, to the point that his mother ran away from home. This resulted in Aguni being motivated to beat his father when he got stronger. However, his father died of alcohol poisoning.

Assassination Classroom:

The entire reason Nagisa is capable of reading people so easily with a single glance is because he had to in order to survive his mentally unhinged mother Hiromi, who can go from zero to psycho in the blink of an eye. She also constantly tells him she wishes he was born a girl and makes him grow his hair long, despite the fact that he hates it, which could cast all previous jokes about his androgyny in a harsher light. His father isn't much better, but his is more of the Parental Neglect variant, because despite knowing how violent Hiromi can be, he just pretty much left Nagisa to deal with it alone, only showing up once in a while (though the Graduation Book Time reveals that Nagisa living with his mother is entirely of his own free will).
Principal Asano is one of the emotional variety to his son Gakushuu, needing little prompting to rattle about how all of his son's plans ended up in failures. Gakushuu usually responds in kind but it's clear his father terrifies him sometimes (just look at Gakushuu's face when his father beats up the

foreign students who were defending him.

). Also, Gakushuu's been slapped by his father at least once (by pointing out how his plans ended in failure, ironically enough).

Dr. Tenma from Astro Boy is an early manga example. After he lost his son in a traffic accident, he built Astroboy like a Replacement Goldfish. Shortly after he realized a Replacement Goldfish is not a substitute for the original thing, and he began to berate and scorn Astroboy constantly, yelling him for such a nefarious crimes like being unable to grow up. Finally he got fed up with Astroboy and sold him in slavery. Thank God Astroboy was programmed to be a "good boy" and he was taken in by Dr. Ochanomizu, who was an altruistic, kind man instilled and nurtured those traits in Astroboy, or maybe he could have become a Woobie, Destroyer of Worlds. Later adaptations tend to mellow Tenma out a bit.
Baccano!:

In the Bonus Episodes, Huey's conversation with Elmer reveals that he's spent quite a good deal of time emotionally manipulating his daughter, Chane, for that wonderfully vague and questionable goal of Science! While he does show her something resembling affection, it's very clear that he sees and treats her more like a well trained guinea pig than a human being. He doesn't even consider her human.

Huey: Chane, my animal experiment... Guinea pigs often behave in ways you don't expect.

Balancing My Support Magic And Summoning Magic In A Different World has both Arisu and Tamaki. They are both adopted out of the Japanese orphanage system, well and good, right? Wrong. Arisu's foster parents were cold and aloof, only interacting with her to "discipline" her in ways that remain unstated, but were so horrific that impending rape by an orc threatening to take away her virginity doesn't faze her. Tamaki, on the other hand, got a major inferiority complex, and drives herself way, way too hard because her foster parents have a Hair-Trigger Temper and would scream and shout emotional abuse at her for the slightest failure, real or imagined. Both girls grew up believing nothing they ever did would be good enough.
Berserk's Crapsack World has quite a number of these:

Gambino berated his adoptive son, Guts, on a daily basis, attempted to murder him while blaming him for the death of his lover, Shisu, told him that he's a demon child and that he should've died, put him through Training from Hell, sold him to a stranger for one night who rapes him, and put him out on the battlefield at a young age.
Casca was sold to a noble who needed a new servant. Unfortunately, the noble wanted her as a Sex Slave rather than for cooking or cleaning. Saved by Griffith, she joined him as a mercenary in his band

until the Eclipse when in a supreme act of tragic irony, he, in his very first act upon becoming Femto, raped her in front of Guts

.
Princess Charlotte suffered an attempt by her father after

a confrontation with the still human Griffith forced the King to confront how he really felt toward her in addition to the emotional abuse from her stepmother

.
Jill is explicitly and publicly abused by her drunk father, Zepek, who also doesn't care about his drinking buddies molesting her. This is the reason why Jill attaches herself to Guts and why she begs him to take her away from her life.
Rosine was driven to become an apostle by her horrible home life and her even more horrible father

Farnese

had to suffer quite a bit of the emotional abuse from her father.
In the Conviction Arc, when Isidro fails to protect Casca, Guts grabs Isidro aggressively by the neck as the kid winces as though about to be struck. However, thankfully unlike his father, Guts refrains from hurting his protege over his lover. Guts also dislikes his own child that he had with Casca and actually tried to kill it before Casca stopped him, though to be fair the child being a corrupted Fetus Terrible as a result of what Femto did to Casca during the Eclipse might have something do with it. When the child comes back later (in a much more appealing form) Guts is much nicer to it.

Bitter Virgin: Hinako is revealed to have been a victim of sexual abuse from her stepfather, made worse by the fact her mother refused to believe it was happening until this abuse got Hinako pregnant for the second time. The experience is the reason she Does Not Like Men.
Creed from Black Cat was physically and emotionally abused by his mother when he was young.
Bleach:

By Sora Inoue's own words: "Our mother was a whore, our father a demon. If a child cried, they beat her until she stopped crying. That's the kind of people they were." It's why he ran away upon turning eighteen, with his sister, Orihime, in tow. After his death, he's unable to let go of her so he returns as a Hollow and tries to kill her.
In their first major appearance, Mayuri Kurotsuchi is willing to sacrifice Nemu's life just to pin Uryuu long enough to kill him and when she lets go in reflex rather than die, he beats her to within an inch of her life. The closest he's ever come to truly acknowledging her as his own is when she unleashes the full extent of her power in fighting Sternritter C, Pernida Parnkgjas, and then gets exploded, which causes Mayuri to have a minor Villainous Breakdown at the fact his "perfect" creation was capable of dying, though he does save her brain and implies he'll remake her again. He fills his promise: the second-to-last manga chapter has a new incarnation of Nemu, a little girl named Nemuri Hachigou, and Mayuri treats her much better than he ever treated the original Nemu.

'Boys over Flowers'':

Tsukasa's violent and often sociopathic behavior is explained to be a result of his parents never being at home and leaving him to be raised mainly by his older sister Tsubaki, a Tsundere who despite her good heart, had a tendency to correct his arrogant behavior with violence. His mother Kaede is not above humiliating and threatening his girlfriend Tsukushi in order to get the both of them to do what she wants, and in the live-action drama she's even worse: while he's in New York studying to take over the family business, Tsukasa makes a remark that causes the company's stock to plummet, and many workers are laid off as a result. To keep her son in line, Kaede pays a man working for the company with, whom Tsukasa has become friends, to get laid off, pretend to become homeless, and commit suicide in front of Tsukasa. This affects Tsukasa so badly that for months he wakes up with nightmares about the man and is constantly wracked with guilt, which keeps him from breaking off an Arranged Marriage that he doesn't want. It does NOT help that Kaede is constantly making comments referring to the "dead" man to manipulate him.
Some mention should go to Tsukushi's parents. While they're generally flighty but loving, one chapter has her coming home from school to find them and her brother packing their things: they were moving out to the city, not taking Tsukushi, or planning to tell her until that very day. Tsukushi's is in school and has no job...Her parents promise to send money for her, but when she finally gets a letter from them, it says that they don't have money to send her yet, so here, have some strips of seaweed. Tsukushi honestly thought she'd starve, and probably would have if not for Tsukasa.

Code Geass:

Emperor Charles zi Britannia is an extreme Social Darwinist who pushes his children to take dangerous jobs... and subtly encourages them to war with and kill one another to secure their position in the line of succession. Lelouch gets the worst of it, getting disowned, publicly humiliated, and used as a political hostage when he gets angry at Charles for not giving a damn about the assassination of Lelouch's mother or the crippling of his little sister in the same incident. Late in the series, we learn that Charles actually did love Lelouch's mother Marianne and considered her children to be his favorites; his abusive attitude, which Marianne supported and went along with, was intended to make Lelouch and Nunnally stronger people. The pair even wanted to get the two kids in on their Assimilation Plot, but Lelouch, having recently crossed over the Despair Event Horizon and having before spent the entire series fighting against Britannia rejecting such beliefs, was in no mood to hear that all the crap he'd been put through in the last decade was "because Mommy and Daddy love you very much". Nunnally's blindness was not the result of traumatic stress, but because Charles inflicted it upon her with his Geass, ostensibly to protect her by making people think she wasn't a threat (her paraplegia, however, was authentic if deliberately caused as a cover up by their Evil Uncle). You better believe Lelouch wasn't happy about that.
Kallen's stepmother mistreats her and neglects her on a daily basis and her father seems to be completely absent most of the time. Her stepmother yells at her mother (now the household maid) all the time, too.

Misae Nohara from Crayon Shin-chan strikes his son, Shinnosuke, on his head most of the time he misbehaves or pokes fun at her. There are even times when she spanks him whenever he crosses the line. While most of the time it's Played for Laughs, some other times can be Disproportionate Retribution.
Jeremy from A Cruel God Reigns was constantly abused by his stepfather Greg,

including being raped and sexually abused

. So much so that it drove him to kill Greg via Vehicular Sabotage, which also resulted in the death of his mother Sandra. Throughout the series, Jeremy is haunted by images of Greg talking to him.
The theme of Episode 4 of Death Parade, where the deceased Misaki and Yousuke were either the abusive parent or the victim of one. Misaki was neglectful, while Yousuke's biological mother was verbally abusive as shown in his flashback where she told him she wish he was never born.
Pops up in gruesome fashion in two chapters of Dissolving Classroom:

In "Dissolving Classroom", Yuuma says that his parents were cruelly strict with him when he was young, and that he relieved the stress from this by killing small animals. Later on,

Chizumi shows Keiko their severed heads and reveals that Yuuma killed them as a sacrifice to the devil.

In "Dissolving Apartment", Yuuma's parents (who seem to have come back to life somehow) are heard by the neighbors cursing and beating the kids. Eventually Chizumi reveals that

Yuuma drags their parents' souls back from hell and reanimates their bodies, but they inevitably melt again.

Demon Slayer: Kimetsu no Yaiba presents a very tragic example with Kanao Tsuyuri's parents. Her family lived in extreme poverty and her parents constantly beat their children for any and all reasons, to the point that some of Kanao's siblings were actually killed through such abuse. Little Kanao completely shut off her emotions as a coping mechanism to endure her terrible life, and eventually her parents sold her into slavery for money. Even after Kanao was rescued and adopted by the Kocho sisters, Kanao still kept her emotions buried deep within her; only until later in the series does she start to open up thanks to Tanjiro's kindness.
Durarara!!:

Some conversations imply that

Masaomi Kida

's parents are neglectful and uncaring towards him, and don't seem the least bit concerned about him, whether he

ends up in the hospital due to gang activity

or

drops out of school and disappears almost entirely.

Anri Sonohara

's father started physically lashing out at her when his antique shop business started going sour. During one of these beatings, Anri's mother Sayaka went Mama Bear and grabbed an antique sword they recently came into possession of to protect her. Too bad it was an Evil Weapon named "Saika"...

Aoba

was beaten regularly by his older brother,

Izumi

, just because his brother thought that he wasn't getting as much love as him, and the poor kid wouldn't fight back. His brother then stated that he went too far with something

that is assumed not to be a physical beating but a sexual one

and it finally caused

Aoba

to retaliate and set his room on fire. Even though they live separately now,

Izumi (who has gotten out of jail because of the fight with Yellow Scarves)

tells Izaya that he plans on killing his brother for making him suffer. Oh, and after all the abuse, his brother didn't really turn out that sane.

The Elder Sister-like One gives us emotionally abusive guardians for Yuu. Creeped out by the boy seeing and speaking with supernatural Youkai, they pass him from house to house. The worst talk about him behind his back but within earshot, while his uncle simply ignores him.
Elfen Lied has a few examples:

Mayu was raped by her stepfather, this being the reason why she ran away from home. To add extreme insult to injury, her already-distant mother, when Mayu told of this abuse, did not disbelieve her or ask her to not say anything... she slapped and berated her out of jealousy, treating her violated daughter as a sexual competitor. While in the anime, she refers to Kouta and Yuka as the mother and father of the group, in the manga, she is understandably still phobic towards guys, and while she respects, admires, and is grateful to the pair, any overt parental associations are kind of shut out. Ironically, she bonds the most with Bandou who generally treats her like crap (mostly verbally). Then again, Even Evil Has Standards in Bandou's case (Though he's still one of the series' biggest assholes).
Another example would be manga-only character Nozomi, who play the more traditional scenario of an abusive father who abuses his daughter to keep her from pursuing her dream (in her case, singing, like her mother before her). Interestingly enough, this case turns out to be an act of well-intentioned extremism on the father's part, for he didn't want her to end up losing her voice and killing herself like her mother did (turns out both suffer from a condition known as "Soprano Dramatico"). This however, has the nasty consequence of having Nozomi almost devoid of self-esteem and with urinary incontinence that makes her wet herself upon slightly stressful situations.
Another character who has these is Aiko Takada, another manga-only character (Though the OVA briefly shows her in Lucy/Nyuu/

Kaede

's flashback) whose father, just like Nozomi's, beat her up on a regular basis to keep her from pursuing her dreams (in this case, painting, again, just like her mother). However unlike with Nozomi's, he does this purely out of hatred and scorn. Therefore, despite being said it was an accident, Aiko killing her father could very well be the result of her snapping under his abuse.

Kayo Hinazuki in ERASED suffers some pretty horrific abuse at the hands of her mother. The issue comes to light when we briefly see a bruise on her leg, adding to a fairly disturbing essay of how she would want to be all alone on a desert island. Later we see Kayo being kicked and stomped on by her mother; then Satoru discovers a badly beaten Kayo, half-naked outside in a shed in the middle of winter. Following this her mother attempts to quickly remedy the bumps and bruises on her daughter's body by forcing her into an ice bath to the point of nearly drowning her.
Fairy Tail:

Lucy's father is shown to have been distant, cold, and at times verbally abusive to the young Lucy as she was growing up, leading her to run away at sixteen to join the titular wizard guild. It's heavily implied however that he was once a very loving father, but the death of his wife and Lucy's mother Layla hardened his heart, and the two do reconcile...albeit only after he dies during the seven-year Time Skip that Lucy spent trapped in time, causing her to burst into tears after reading his final letter to her and tearfully saying she loves him too.
The also applies to Minerva, whose father brought her up to believe that crying was weak and punished her by doing exactly what he did to poor

Yukino

. No wonder the girl's such a bitch.

Fruits Basket is the absolute epitome of this trope! Non-abusive parents are the exception rather than the rule. Part of the Sohma curse is that often parents will either become extremely overprotective of their possessed child or they will reject it completely. Let us count the ways...

Yuki is used by his parents as a tool for furthering their financial gain. His mother abandons him to live with the already screwed-up Akito, who starts out kind to Yuki but eventually becomes emotionally abusive toward him [and some say physically]. They show no affection toward him but have great interest in the value that his curse can bring to their household. They control every facet of his life and keep him locked away unless they stand to gain from it, pretending not to hear him when he protests. This leads Yuki to seek the mother he never had in Tohru rather than a romantic partner, in a non-squicky way. In a subversion, though, the manga hints that Yuki's mom may have had a Heel Realization, or had started working on it.
Kyo is feared by his own parents because of the volatile nature of his curse, as he turns into a hideous beast if his bracelet is taken off. His mother (implied to already be very unstable) became obsessively overprotective of him, and while she often told Kyo she loved him, Kyo suspects that this was overcompensating to hide how she was terrified of his monstrous form. The pressure of being the Cat's mother and implied abuse from Kyo's father drove her over the edge to suicide. At this point, Kyo's father went completely loopy, abandoned him and demanded he be kept in solitary confinement, as is tradition for the rejected person who is possessed by the Cat. This is delayed by his later adoption by Kazuma, and definitely abolished when Akito has a Heel–Face Turn.
Momiji is

rejected straight from birth by his mentally unstable mother. She was prone to screaming and throwing things in despair, eventually driving herself to madness and appealing to have her memories erased. She told the doctor, Hatori, that she rejected ever giving birth to such a creature... in front of Momiji. He then lived with Hatori and was visited by his father occasionally, but forbade to see his beloved younger sister Momo. It's hinted in the manga, though, that his dad is starting to ease up and may let him meet up with Momo some time later, when they're older.

Isuzu aka Rin is

raised lovingly by her parents until she expresses doubt that they could be happy all the time when the other families are experiencing such pain. It's then that they snap, and the happy days are revealed to be nothing but a facade they kept up to keep things stable in the house. After their true feelings come out, they ignore Rin entirely, occasionally yelling at or physically abusing her, leaving her with huge scars on her back. After she runs away from home and falls ill, her parents arrive at the hospital to officially disown her. She lives with Kagura from then on, and later with Kazuma.

Akito is raised as a man by her jealous mother, Ren, in order to separate the god-child from her husband Akira (Ren even demanded this as a condition to not have her abort the unborn Akito, under the excuse that a female leader would "make the Sohma clan look bad".) After Akira's death, Akito is continually manipulated and demeaned by Ren, who tries to take the Zodiac members from her. In terms of emotionally abusive parents in Fruits Basket, Ren's is the worst case, making Akito into the delusional and violent monster s/he becomes as she grows older.
Most of the other Zodiac members express a rift between them and their parents to a less dramatic extent (like Wholesome Crossdresser Ritsu and his mother Meshou, who genuinely loves him but is asphyxiating overprotective and just as much of a Shrinking Violet as she is, and Kisa's mother who is overprotective and extremely insecure but basically well-intentioned), but only two children, Hiro and Kagura, can claim healthy, normal relationships with their parents.
Not only members of the Zodiac are hurt by parental abuse in this story, though: Arisa Uotani is

raised by a neglectful, alcoholic father who pays her so little mind that she joins a gang and rarely comes home, after her mom leaves them for someone else.

Machi Kuragi is driven to compulsive acts of violence after being raised by a mother who forced her to be perfect. Nothing she did was ever good enough, and the incredible pressure drove Machi to insecurity and depression. After her baby brother was born, the mother's hopes were invested in him and she falsely accused Machi of being murderously jealous, separating the siblings and making poor Machi even more dysfunctional. Tohru's mother Kyoko was

rejected by her parents after she joined a gang as well. Beforehand, her father only expressed contempt for her, and her mother sheepishly ignored the abuse and only worried about what others said about Kyouko's bad behavior. Even after her husband died, they only called to tell her not to come home with her child.

Even normal people have terrible parents in this story!

Fullmetal Alchemist:

Implied. Riza Hawkeye tells Roy Mustang in a flashback that her father, who doubled as Roy's alchemy teacher, was "a terrifying man." The exact nature of his abuses are not made clear, but one thing is known for sure: he used her as the Human Notepad for his research on flame alchemy when she was younger than eighteen. The father's only "redeeming trait" was asking Roy to take Riza in and protect her in his Famous Last Words, and he probably did it more

to ensure his research wouldn't be lost

than for Riza's sake.
All three of Hohenheim's kids in the first Fullmetal Alchemist anime.

Envy

definitely takes the cake, as while Ed and Al had Hohenheim merely pull a Parental Abandonment and were left with a very loving mother

since Hohenheim realized his huge fuck up and didn't want them to be in danger

, Envy was stuck with his mother Dante, who only cared about herself and treated Envy as a tool.
Shou Tucker is so desperate to achieve fame and fortune through spectacular alchemical skill that he turns his own daughter and her dog into a chimera, something which the author herself considered so vile that he is the one and only dead character who is shown in the "In Memoriam" omake cartoons as going to Hell, whereas other characters who committed utterly atrocious crimes are still shown flying up to Heaven.

In Future Diary Yuno Gasai had a Control Freak mother who measured everything she did from how many hours she got to sleep to how many calories she had a day. She also kept her in a cage and starved her in an effort to raise her to be a model person and ignored her whenever she begged them to let her out. She eventually

trapped both her parents in the cage and starved them to the point that they died

. If you want to know why Yuno is so messed up in the head, look no further.
Although Baron Julian Danglars from Gankutsuou maintains that he only wants his daughter Eugenie to be happy and that everything he does is for her sake, he clearly cares more about money than his own family. He is the most powerful banker in France and he seeks wealth above everything else, disregarding the feelings of those closest to him in the process. He sees the marriage of Eugénie (first to Albert and later to Andrea) as a way to enhance his family's wealth and prestige. The problem is his pushing Eugenie into marrying Andrea (against her wishes even) turns out bad because Andrea is actually insane, and is revealed to be her half-brother. Andrea routinely sexually harasses Eugenie and eventually tries to rape her as well. Eugenie had started to warm up to the idea of marrying Albert and had fallen in love with him. Her father cancelled the engagement to Albert because of a bad rumor surrounding his family and gave Andrea permission to marry her, without even asking his daughter if she wanted to first or even informing her of his plans. And later refuses to let her out of the house, and slaps her when she attempts to go see Albert.
In Girls und Panzer, Miho's mother, Shiho, is verbally abusive to her on a few occasions. In the prequel manga, she belittles her for asking whether Maho was expected to

shoot the enemy flag tank when it was trying to save one of her own team's tanks

. In the main series, after Miho

causes her team's defeat by saving one of her own tanks from drowning

, her mother again berates her, leading her to transfer to another school and give up tankery. Later in the series,

Shiho even plans on disowning Miho after hearing of her commanding Oarai's team, but has not done so as of the end of the first season

.
Thankfully, no character in Glass Fleet suffers all four forms of abuse, but together the three main characters manage to combine all four. Vetti, the main antagonist, suffers extreme emotional and sexual abuse at the hands of his stepparents. Cleo suffers mildly from physical abuse, and Racine's father's neglect of her is minimized by her older brother's involvement in her life. As it turns out, Vetti and Cleo's abuse was for the sake of a prophecy.
Golden Kamuy:

Yasaku Edogai's mother apparently castrated him at one point. His father was not abusive, but he was murdered for it.
Zigzagged with Wilk. He put Asirpa through Training from Hell with the secret intent of

grooming her into becoming a freedom fighter waging war against the Japanese government for the Ainu

. Judging from what is shown in the series, it involved telling her to hunt a bear alone when she was seven or younger. Despite this, he was an otherwise loving and supporting father and it's implied that he did what he did because he trusted her exceptional abilities as a hunter and a survivalist, rather than abusing her for the kicks.

Aiko's mom from Goodnight Punpun is emotionally and physically abusive. She tries to kill Aiko after Aiko mentions that she wants to move out and live with her boyfriend Punpun. In the end, Aiko kills her instead.
Gregory, of Gregory Horror Show, has Gregory Mama, the only character that Gregory actually fears, and is a bigger villain than he is! Gregory Mama frequently shouts at her son, insults him, and can't seem to go a single conversation without striking him on the head with her staff. She's also a witch, and is most probably immortal...meaning Gregory will have to put up with her abuse for all eternity. The guy hates her so much that when a shelf falls on her and crushes her, he actually considers letting her die, or finishing her off himself. (She threw the shelf off of her, screaming at him for not helping, and Gregory broke down the door in his haste to get away.)
Played for Laughs in Ground Control to Psychoelectric Girl. Makoto's aunt never told him she had a daughter. It turns out she was ignoring Erio. She soon gets better but still isn't the best mother ever. Meme does care for Erio though.
Common plot element in Gunslinger Girl. Angelica in particular, since her father ran her over with his car to collect her insurance. She survived, but barely..
Hayate from Hayate the Combat Butler suffered this in spades. Not only they ran away from home and slapped their son with their debts, they even sold his organs to the Yakuza to pay it off!!!

Hinagiku and Yukiji's real parents did this to her and her sister, albeit not as severely.
Hinagiku tells us that her parents simply dropped the debt on the children and disappeared. She still loves them, and loves her foster parents, it's implied that the love is the same for both, and the Katsura parents are implied to be very loving, so abuse is unlikely from the unknown parents.

A recurring theme in the semi-autobiographical stories by horror manga author Hideshi Hino. Dad is an abusive alcoholic pig slaughterer while mom went violently insane the day the Author Avatar was born with a smile on his face and a blood clot/his dead twin's head in his hands — "Demon child!". Mom enjoys tying up lil' Hideshi and torturing him while Dad has to tie up mom in order to control her. Incidentally, Grandpa is a yakuza and/or a gambler while Grandma believes she's a chicken/is violently raped, murdered, and stuffed down a well, depending on what story you're reading.
Higurashi: When They Cry

This trope is constant in the series, especially in regards to Satoko Hojo. Her own mother told her she wished she wasn't born and her numerous fathers abused her when she refused to call them father, and her aunt and uncle considered her a curse and beat her up and made her buy them alcohol.
Shion, whose family disowned her and made her spend time away from her only sister, due to "tradition."

How to Treat a Lady Knight Right: Leo Cornelia is the only daughter of a family of knights. When her past is shown or discussed, it's consistently shown that she was made to endure Training from Hell, focus only on things that helped her training as a warrior, and forego any of the staples of a normal childhood. In the present, Leo is essentially the World's Strongest Woman, but has zero experience with day to day things like Houli's declaration of love for her, and his celebrating her birthday or going out to eat cake with his sister are first-time, milestone events for her.
In the Ikki Tousen manga/anime, Little Miss Badass Ten'i (Dian Wei) is raped by her father and she kills him in revenge.

Mari's mother

in Inside Mari is revealed to have been emotionally abusive in the past. She even accidentally

caused Mari psychological damage by forcing her to change her name from "Fumiko" to "Mari", in order to disassociate her with her deceased grandmother

. There are also implications she was a Domestic Abuser towards her husband.
Zigzagged with Big Bang/Taiki Amanogawa from Jinzō Konchū Kabuto Borg VxV. He put Ginga through Training from Hell, where the child was forced to carry heavy things, to stand under the weight of a waterfall and to practice the borg machine at night. When planning to send Ryūsei many lookalikes, he horrifies even his Number Two with the idea that if one of them wins, then he will replace the real one. In episode 33, when posing as a girl, he falsely accuses Ryūsei of stalking and calls the angry mob to punish the boy alongside him by stoning. That said, he does care about both his sons, as demonstrated when he expresses genuine pride in their growth.
JoJo's Bizarre Adventure:

Dario Brando from Phantom Blood is a deadbeat alcoholic who emotionally abused his wife and son, Dio, along with implied physical abuse. It's safe to say that, had he not treated them this way, Dio probably wouldn't have become the way he is.
Diamond Is Unbreakable:

The Nijimura Family Patriarch, prior to becoming a deformed Humanoid Abomination, would beat his two sons whenever he was stressed.
Yoshihiro Kira is a strange variant of this. He's shown to very much love his son, Yoshikage, and will go to any extent to protect him. However, in doing so, he encouraged Yoshikage's arrogant attitude and indirectly caused him to become a Serial Killer.
Yoshikage himself isn't technically this, seeing as he's not actually Hayato's father, rather just posing as him. However, during his time under this identity, he murders Hayato in order to protect his identity (though his death is quickly undone), and later turns him into the host for Bites the Dust.

Vento Aureo:

Giorno Giovanna grew up having to fend for himself due to his extremely neglectful mother, and while his stepfather seemed nice at first, he later turned out to be physically abusive to Giorno. Luckily, the later would come to an end after a gangster Giorno saved the life of payed the stepfather a visit. According the Over Heaven spin-off novel, this was the intention of Giorno's actual father, DIO, who only had children with women he knew would be abusive so that his children would become self-dependent and strong willed.
Narancia Ghirga's father became very emotionally distant after the death of Narancia's mother, not even willing to acknowledge the poor boy after he had been released from juvie.

Steel Ball Run:

While the original George Joestar could be strict at times, he always had the best intentions for Jonathan. His Alternate Universe Counterpart, on the other hand, would berate Johnny for even the most minor of mistakes, unfavorably compare him to his older brother, Nicholas, and even demands that Johnny personally drown his own pet mouse.

Luckily, during the Part's climax, he publicly apologizes to Johnny for the way he treated him, and the two end up reconciling

.
Benjamin Boom Boom of the Boom Boom Family constantly badmouths his sons, especially L.A., as well as his wife. And then there's the fact that he's willing to lethally injure his own son to get the advantage on the heroes.
While the original Dario Brando was bad, his Alternate Universe Counterpart is even worse. Unlike the original Dario, this version tries to outright murder Diego.
In Kannazuki no Miko, Souma and Tsubasa were often beaten by their father, one flashback showing him holding a baseball bat. This drives Tsubasa to murder him, and is the main reason for Tsubasa joining Orochi.

Also, it's strongly implied that Himeko's adoptive parents were abusive.

Soichiro Arima from Kare Kano had a mother who beat him badly on an almost daily basis and if she wasn't, it was because she left him alone for days on end as he slowly starved, locked in a house with barely any food. He never received any sort of affection and if he wasn't being beaten or neglected he was being verbally abused. When he was still three his mother eventually decided that is was enough and left him alone completely. When he was so sick and malnourished he could barely move and was close to death, she returned just to check if he had died yet, kicked him across the room when he begged for help and left once again, intending to leave him to die a slow and painful death. He was luckily adopted by his aunt and uncle who raised him as a son

by request of his biological father Reiji, who found baby Soichirou right before he died

.
Kaze to Ki no Uta:

Gilbert has suffered emotional, physical and sexual abuse by his father (who poses as his uncle) Auguste. He first uses Gilbert to be "his pet" and later turns him to a "pure and artistic" individual by the way of neglect and manipulating his love for him.
Gilbert's mother went a little crazy and she tried to kill him, while he was still an infant.
Auguste himself suffered both physical and sexual abuse at the hands of

his much-older stepbrother

and at one point he tried to kill Auguste by burning him after discovering that he was sleeping with his wife, but it left him with a rather nasty scar. And it's also revealed that

that his stepbrother raped him when he was younger.

Ragyo Kiryuin in Kill la Kill is quite possibly one of the worst parents in anime and manga. She's quite emotionally abusive, but that's not the most horrible part about her—she has No Sense of Personal Space when it comes to her daughter, Satsuki. As in, she molests her repeatedly, probably since she was 5 years old, up to and including groping her and "purifying" her while she was naked and in a bath, and removing her Thong of Shielding (It Makes Sense in Context) by touching her crotch. She also has no qualms about using physical abuse as well, delivering a No-Holds-Barred Beatdown to Satsuki that was probably the first bit of Family-Unfriendly Violence in the series. She saw her newborn daughter, Ryuko Matoi, as little more than a guinea pig, and simply dropped her down the garbage chute when the experiments seemingly failed. The girl actually survived, only to literally have her heart ripped out when they met for the first time. After that, she throws the battered Satsuki into a cage in a torture chamber and repeatedly spanks her in the worst way possible so that Satsuki can be a better Living Battery for her planned superweapon. After that, she brainwashes her other daughter with false memories, sews the superpowered uniform Satsuki wore onto her (It Makes Sense in Context) and has a threesome with her to round it off, before sending her to fight and kill Satsuki and her companions. When Ragyo realizes she's subconsciously hesitating to kill Ryuko due to still having some infinitesimal bit of humanity left within her, she immediately resolves to rid herself of it and goes for the kill.

Katherine

in King of Thorn, who was an alcoholic and would physically abuse

her son Michael

, to the point where social services stepped in and removed him from

her

care. Throughout the series

Katherine

deeply regrets her actions.
Kodomo no Jikan:

Reiji had an alcoholic father and a mother who refused to do anything about it. His hatred for them was so great that he didn't even cry when they died. To make thing worse, Reiji himself perpetuates the cycle of abuse when he becomes an abusive stepfather, with Wife Husbandry intent towards the daughter of his deceased cousin and wife Aki, Rin.
Both Mimi and Kuro's mothers are implied to be neglectful, and after Mimi has a run-in with a Chikan, her mother actually scolded her for dressing the way she did even though her clothes weren't risqué at all.

Kyojin no Hoshi: Ittetsu Hoshi was once a 3rd baseman until he was injured in World War II and was forced to retire. He became totally consumed with the idea of bringing up his son, Hyuuma, to be a first-class player using Training from Hell (the most iconic part of the training was a special spring-loaded harness Hyuuma wore beneath his) and is always cold and rigid towards his son. When he believes that fame is hurting the career of Hyuuma, he becomes the coach of son's rival to cause his defeat.
Niki from Legend of the Overfiend had abusive alcoholic parents who beat him on a regular basis. This eventually drives him to kill them.
Loveless:

Misaki Aoyagi, Ritsuka's mentally unstable mother, abuses her remaining son after the eldest one, Seimei, dies in very odd circumstances. While the anime mostly implies the abuse, showing her screaming and throwing things and one brief silhouette of her strangling him, the manga goes into almost graphic detail with the maddened Misaki hitting, biting, stabbing (with a fork), and trying to drown her 12-year-old son, all the while screaming about how he's not her real child, how she wants the "true Ritsuka" to come back, and how she should have had him aborted. And it's eventually revealed that Misaki actually starts beating Ritsuka before Seimei died. The reason Misaki started beating Ritsuka was because, at age 10, Ritsuka's personality changed completely, causing Misaki to claim that he wasn't her son. When he was alive (

or rather, before he was thought to be dead

), Seimei would protect Ritsuka from Misaki when she went into a rage, and would tend to his wounds when he wasn't there to protect him. And as far as their father goes, there's a shot of his father standing by the door while she's beating Ritsuka at one point, and very early in the manga there is an occasion where Ritsuka's father grabs Misaki and instructs Ritsuka to run while he holds her back. The implication is that the father spent all his time at work, probably because his home life was so unpleasant.
Soubi suffered sexual abuse by Ritsu, who raised him after he was orphaned.

In Lucky Star this seemed to be the case for Akira Kogami, who works in the Lucky Channel segment. It's even implied in the first episode that

her mother took all of her salary that she got from her job

.
In Magical Girl Lyrical Nanoha, Fate's mother Precia Testarossa regularly flogs Fate with the whip form of her Intelligent Device for any and all mistakes, and despises Fate because Fate, who she created as a clone and Replacement Goldfish for her first daughter Alicia, had her own personality and wasn't a perfect duplicate of Alicia. Her TV incarnation in particular is by far the cruelest villain of the entire Nanoha series.
Genzo Kuruma from Majuu Sensen is basically what happens when you take Director Kakuzawa and Shou Tucker and then fuse the two into one psychotic madman. In addition to being a mad scientist who wants to create a new super-race of half-human, half-animal hybrids, he is a horrible father to his own son, Shinichi, seeing him as nothing but a guinea pig to be experimented on and fuses him with several other animals turning him into a mutant as part of his project. He does the same thing to his own wife, then has her killed when she tries to attack him, causing Shinichi to seek revenge on him and his fellow group of scientists.

Kira

from the manga Mars was raped by her stepfather, causing her to gain a fear and dislike for men in general. It gets worse when her mother, who is unable to support the two of them anymore and still technically married to her stepfather because he never agreed to a divorce, has the two move back in with the stepfather, well aware of what he did to her daughter.
Kenzo Kabuto from Mazinger Z and Great Mazinger. He almost died cause a laboratory experiment gone wrong, but his father saved his life. However both of them thought it would be better not telling Kouji and Shiro -Kenzo's sons- he had survived. For YEARS Kouji and Shiro grew up mostly alone, thinking their father died alongside their mother while he was building a Humongous Mecha to defend humankind. When Kenzo revealed the truth to them, Kouji was too glad to hold a grudge, but Shiro took a long while until he could forgive him. Also, Kenzo had no troubles slapping his adoptive son when he thought Tetsuya was crossing the line. All of it finally bit everyone's butts at the end of the series.

Another Mazinger Z character who suffered due to Abusive Parents was... Big Bad Dr. Hell himself. Like it was seen in the manga continuity penned by Gosaku Ota (that gave a backstory to most of the villains), since he was a child his mother abused him physically and emotionally (insulting him, stating openly she did not want getting kids and she would be better off if he would have never been born...) as his father shrugged indifferently. The physical and psychological mistreatment he suffered back then is one of the reasons he grew to hate people.

Mawaru-Penguindrum:

Yuri Tokikago's father

, as revealed in episode 15. A famous sculptor, He told Yuri that she's ugly and he carves her body with his chisels to make her look "more beautiful" and be worthy of his love. It is also heavily implied

that he sexually abused Yuri as well.

So it's no wonder

Yuri

is so utterly screwed up.
There's also

Tabuki's mother.

Since she loved the piano,

she pressured him to study music and Tabuki intentionally harmed his left fingers in a misguided attempt to get his mother's attention after it's found out that his brother was a better pianist than him. It didn't work.

Gundam has a number of examples:

Mobile Suit Gundam has Amuro's father and mother. His father Tem Ray actively neglects Amuro growing up due to his work as a military engineer and scientist, to the point that Amuro's next door neighbor friend whom is the same age as him is more like his actual parent. Meanwhile, years ago his mother refused to move to space with her husband and son. When Amuro meets her again she ends up chewing him out and disowning him when he kills an enemy soldier in order to defend himself. She wants him to still be the peaceful boy she remembered when he was much younger, but she played no part in raising him so she has little right to complain.
Mobile Suit Zeta Gundam has Kamille's parents who are both incredibly neglectful. His mother is a workaholic who seems to care nothing about Kamille until he causes trouble. Then his father turns out to be not just neglectful but also physical abusive. When Kamille criticizes his father for cheating on his mother he is brutally backhanded for his troubles. Its notable that after both parents die that Kamille gradually matures into a much better and more well adjusted person.

Al Da Flaga from Gundam SEED was a narcissistic bastard who viewed his son, Mu La Flaga, as nothing more than a vehicle for his own ego. When Mu refused to nothing more than an extension of his father and his Strong Family Resemblance to his mother became more pronounced, Al cut him out of his life, locked him and his mother up in a Big Fancy House, and had himself cloned. He then proceeded to treat said clone as though he were a replacement for Al himself rather than a real person (his first words on seeing the clone were "This is me, right?"). Said clone eventually rebelled, murdered Al by burned down his house, and became Rau Le Creuset, whereas Mu stayed firmly at the side of good but later explained to his girlfriend Murrue how badly his father's emotional abuse fucked him up.
Muteki Kanban Musume: Being an hilarious deconstruction of the Fighting Series, offers a subversion of this trope because Miki Onimaru is not a child, but a Womanchild, and when her mother punishes her is by a very violent Curb-Stomp Battle. Also Miki is The Slacker and The Bully, so her mother is always justified.
My Bride is a Mermaid has main character Nagasumi Michisio's parents. It's a lucky thing he's an Iron Butt Monkey, considering all the abuse he gets from everyone around him including his own parents, who regularly beat him up for all the trouble that's happened. They also explicitly say, even when Nagasumi's around, that he's a worthless disgrace to the family and rather have his girlfriend Sun for a daughter instead, to the point that they move him to the attic and move Sun to his room. And then when Sun leaves, they beg her to stay with them and forget about her boyfriend.
My Hero Academia:

Endeavor only sees Shoto as a tool to surpass All Might and nothing more, as shown by the way he doesn't even refer to Shoto as a person, but "it". In a flashback, he put Shoto through Training from Hell, which caused the child to vomit, and isolated him from his other children. Ironically, Shoto's burn mark isn't his fault, but his wife Rei's, though Shoto still pins the blame on him for driving his mother to that level of mental instability. Worse, Shoto may not even be the worst victim of the children. He's treated his second son, Natsuo, like a failure, doesn't seem to really care much about his only daughter, Fuyumi, and then there's his oldest son, Toya, who was his original successor, but it's implied his much stronger Fire Quirk came with his mother's delicate constitution and when forced to learn one of his Dangerous Forbidden Techniques, Toya may have been crippled. It's later revealed that Toya is believed to be dead by his family.

Subverted after All Might retires, however, he realizes how badly he's treated his family and is trying to make amends. Fuyumi and Rei accept his attempts to change, although Rei's still nervous about seeing him in person again, but Shoto and Natuso initially refuse to forgive him.

Subverted with Rei Todoroki. She was a kind woman who encouraged Shoto to pursue his own dreams but snapped due to a combination of the frustration for being used and the fact her children were beginning to look like Endeavor, which resulted in her dumping boiling water on Shoto's face in a Moment of Weakness. She immediately attempted to soothe her son's burns using her ice Quirk, while hysterically apologizing to him and asking herself why she did it. She gets better later on after being hospitalized and Shoto reconciles with her after the Sports Festival.
Defied with Mitsuki, Katsuki Bakugo's mother. Despite giving Katsuki a Dope Slap, it's Played for Laughs and he's furious rather than heartbroken like an actual abuse case. One minute later she also says she's glad he's back safe and sound while ruffling his hair affectionately. It's made clear that she's otherwise a loving parent but, given how hot-tempered he is, it's implied she's just strict or, at least, trying to be strict to curb his explosive tendencies. That said, Mitsuki does have a tendency to use violence to get Katsuki to pipe down, which is depicted in omakes when she gets into brawls with her son. During Katsuki's second provincial licensing exam when he's told that they can't use violence in response to a class of problem children, he angrily remarks that it's how he was raised.
Chisaki pretends to be Eri's father just for the sake of corralling her more easily. He makes her think she's a weapon being used to and born to destroy people.

He drains her blood to use its properties to make Quirk-nullifying darts. When she runs out of blood to give, he uses his Quirk to break her down and reset her back to normal. Given what's seen of people who have been broken down, it cannot have been a nice experience at all

. Mirio is completely horrified when he learns about it.
Eri's real mother didn't want anything to do with her after

her husband was erased from existence by the girl's Quirk. This led Eri's mother to disown her and leave her with the former Boss of the Shie Hassaikai (Eri's maternal grandfather), after telling him that her own daughter is cursed.

Toga Himiko's parents were disgusted with her Quirk and tried to suppress it from a young age, putting immense pressure on her to be "normal" and calling her a "creepy demon child".
This contributed to Tomura Shigaraki's Start of Darkness. The rest of his family was kind and loving but his father was cold and controlling, punishing him for expressing his desire to be a superhero due to his bitterness over losing his mother Nana to her heroics. When Tomura finds a picture of Nana in her hero outfit he beats him, but later realizes the error of his ways and planned to apologize. Tragically, at the exact same time, Tomura's Quirk manifested and he accidentally kills the rest of the family before snapping and intentionally killing his father.

Narutaru:

Hiroko "Hiro-chan" Kaizuka's father constantly berates her for anything but a 100% in every class (despite pressure from bullies to do poorly to lower the grading curve), and cuts her ties to the only friends she ever had. That last one finally broke her

enough to kill the bullies *and* both of her parents

.
It practically spelled out in the manga that Akira Sakura suffers this at the hand of her father. And she calls him out by stabbing him to death.
Shiina's parents aren't together anymore, because her mother Misono strangled her once during an emotional breakdown. Shiina also gets emotional abuse from her, since Misono was so mentally damaged by

the death of her older daughter Mishou

that she convinced herself that Shiina, born some days before

Misho's demise

, was to blame. And when Mom actually redeems herself? She's almost immediately murdered.

Naruto:

Hiashi Hyuga was abusive to his eldest daughter, Hinata, for most of her childhood. It's a wonder that it hasn't affected her more, considering he has been sparring against her since she was only three years old. The abuse that she suffered—being so constantly berated for her kind and gentle nature and natural compassion—led her to develop a severe inferiority complex, and she was veritably disowned by her father and their entire clan, forcing her to live with Kurenai for a while. However, thanks to Naruto beating Neji for Hinata at the Chunin Exams finals in Part I, Hiashi mellows out, becomes supportive of her, and ends her renouncement, to which she finally returns to the Hyuga clan and household. By Part II, Hiashi openly applauds Hinata for trying to fight Pain, acknowledges her growing strength, gives her a personal bodyguard, and allows her to participate in the Fourth Shinobi World War. By the time Hinata becomes an adult, Hiashi happily supports her marrying someone outside of the Hyuga clan, and by the time of Boruto, he's become a Doting Grandparent to her two children.
Gaara's parents: First, he was only conceived to imprison the daemonic incarnation of sand in order to serve the expressed purpose of being a mindless tool. Hated and feared by all of the villagers, he grew up lonely, confused, and suicidal - his only loved one and confidant being his maternal uncle, Yashamaru. Then, when he was six years old,

Yashamaru attempts to kill him on orders from the Kazekage, Gaara's father.

This is not, however, a matter of duty, as Yashamaru tells Gaara he could have refused the Kazekage. THEN, to pour salt in the poor kid's wounds, Yashamaru tells Gaara that he has always hated him, and is unable to think of him as his nephew, that Gaara killed his mother/Yashamaru's older sister Karura due to Death by Childbirth and that he is nothing more than a monster that should carry out the ambitions of Karura's hatred for her village. Oh, and that Karura never loved him. And evidently since then, the Kazekage has been sending assassins for his own son's head for seven years, from the time Gaara was six. And we all know how Gaara turns out.

The part about Karura turns out to be a lie though.

After his parents' death, Takashi Natsume of Natsume's Book of Friends was passed around from foster family to foster family. While most of the time they just tolerated him until they could push the responsibility on to someone else, chapter 31 confirms that some of them were physically or emotionally abusive.
Neon Genesis Evangelion is quite fond of this trope. Every parental figure in Eva is abusive, dead, or both:

Gendo Ikari is cold, dismissive, and occasionally insulting toward his son, Shinji, who, for the most part, desperately craves his father's approval. This also overlaps with neglect over his treatment of

his daughter

Rei. Ironically it's revealed Gendo avoids his son because he thinks he'd be a horrible parent.
It is implied that the reason why Gendo is the way he is, is because he himself had problems with his parents.
Asuka's parents and stepparents. Her mother Kyouko's neglect was a result of her going completely insane as a consequence of a "certain" experiment and, from then on, simply being unable to see Asuka as her daughter at all. But her father and future stepmother (who just happened to be the mother's treating doctor) really should have made sure that Asuka had some help to deal with being ignored rather than allowing unsupervised visits, which led to Asuka discovering her suicide alone and subsequently deciding to be emotionally self-sufficient at age six. And they really should have made sure she was out of earshot when they started having their affair.
It's not clear what kind of relationship Misato had with her father, but there was lots of emotional neglect. He did save her life during the Second Impact, but she was still emotionally scarred enough for the rest of her life.

Nijigahara Holograph:

Arié's father either is raping her or is about to, based on the one time that they're seen together.
One of Sakaki's children has bruises on their shoulder, as if they were gripped painfully tightly.

Yato's "father" in Noragami. He refuses to see Yato as anything else but a God of Calamity,using him as a pawn to his many plots. He puts Yato down anytime Yato tries to do good and in general, Yato is terrified of him.
Ian's parents in Not Simple run the full gamut of this trope, from Ian's distant and verbally abusive father who also sexually abuses Ian's then teenaged sister, to his alcoholic mother who not only beats him, but even sells a young Ian's body to a pimp in order to fund her addiction.
One Piece:

Played for Laughs with

Monkey D. Garp

and Luffy. The former used many tricks to strengthen his grandson, including tossing him into a bottomless ravine, leaving him in the jungle at night and tying balloons to him to make him fly. It's also clear that

Garp

sincerely cared for Luffy and wanted to toughen him up, rather than abusing him for the kicks.
Vinsmoke Judge, on the other hand, is NOT in the least played for laughs in regards of his horrible treatment of his third son,

Sanji

. Hating his son's empathy and compassion and the fact that he

is still a normal human after Judge's genetic experiments on his children

, he encourages his other children to beat him down with only his daughter being reluctant to do so (plus later it's revealed that he did have their empathy removed to make them his tyke bombs, basically being the reason why the boys are royal brats), and then eventually, locks him in a cell. Years after his son's escape, Judge kidnaps him from his new life to use him as nothing more than a bargaining chip for his schemes of power with Big Mom.

Sanji

emphatically tells Judge he utterly hates him and does not consider him to be his father, the feeling of which is mutual.
Charlotte Linlin aka Big Mom has many children, but not only she encourages their worst traits, recruits them in their crew and/or forces them in arranged marriages (even if some of them have worked well), if they ever try defying her she will treat them as absolute crap. i.e. she ripped 50 years out of her son Moscato's life when he tried to stop one of her hunger-induced Unstoppable Rages,

beat the hell outta her daughter Chiffon for looking too much like her sister Lola aka the only of her kids who openly defied her

, and psychologically abused her "favorite child" Pudding ever since she was a little girl, only valuing her for the power inside her Third Eye and helping shape her into the Ax-Crazy Bitch in Sheep's Clothing she'd become.

The backstory of Sugishita from Ooku, a senior page in the titular Inner Chambers of the Shogun's palace, hits both the sexual and financial versions of this trope hard. The setting and situation (Tokeguwa Japan after generations of an endemic man-killing plague) generates enough Deliberate Values Dissonance for the reader to swallow the idea of poor families with a healthy son collecting the occasional stud fee without choking (too much) but... Every. Single. Bloody. Night. From the age of fourteen!?!?!

And then you have Sakyo, who had approximately the same experience, except it was with one woman. His mother.

In the anime adaption of Ouran High School Host Club, Kyouya's father Yoshio is introduced - via a flashback - as someone who has very high expectations of him. What stands the most is Yoshio

slapping Kyouya in front of the host club, their customers, and the customers' parents. This causes quite a stir, especially as it was hard enough to knock Kyouya to his knees, after his glasses. It's also heavily implied that it isn't the first time Yoshio has hit Kyouya - Yoshio's brief interaction with Tamaki's father Yuzuru, as well as how Kyouya brushed away the concerns of the host club, is pretty sttong evidence of that fact.

Several examples from Pandora Hearts
The Dark Magical Girl in Princess Tutu suffers from this — her father constantly tells her that she is "hideous" and that "no one could ever love you enough to die for you". He even tries to take her heart to feed his powers at one point. However, near the end, it's revealed that he isn't her true father at all, and kidnapped her as a baby — which frees her up to help the main characters kill him.
Puella Magi Madoka Magica:

Kyouko Sakura counts. Her father started as a good guy, but went crazy enough to kill the whole family after he learned that his followers to his church were only coming because Kyuubey compelled them to by Kyouko's wish, and not from actual interest. The only reason she lived was because as a Magical Girl, she was technically already dead and could not be killed in normal fashion.
The spinoff Puella Magi Oriko Magica: Yuma Chitose's dad was almost never around. Her mom blamed Yuma, constantly telling her she was useless and burning her forehead with cigarettes. Watching her parents get eaten alive and being subsequently reduced to living on the streets was a step up for Yuma.

Shirō Onijima from Pupa is a sadistic bastard who used his son as a walking ashtray.
Ranma ½:

Almost everything wrong in Ranma's life can be traced back to the actions of his father, Genma. Juusenkyo? Genma's idea. A crippling fear of cats? Genma didn't bother reading the page mentioning how utterly stupid a particular training regime was. Getting Ukyou and Shampoo dead set on killing them? Both due to Genma's short-sighted greed and gluttony, though Ranma was somewhat to blame in the latter case. Plus pairing him up with a girl who will assault him or lash out at him for the pettiest misunderstandings, in an Arranged Marriage. Even separating Ranma from his mother at toddler age, thus ensuring the boy would get very limited social and emotional development, was Genma's idea, because she would have made him "weak"... and let's not even go into the bit about the seppuku vow Ranma was made to take without knowing. He claims he did it all to make Ranma a peerless fighter and man among men, though.

Ironically enough, he may be the less abusive parent compared to his wife, Nodoka. While Genma manipulates Ranma for his own personal gain, he still attempts to protect Ranma throughout his life. Nodoka, on the other hand, does love and care for Ranma, but is a Cloud Cuckoo Lander who is completely determined to carry out the seppuku contract she and Genma had Ranma sign when he was just a baby. Even though she wants to see her son and desperately want to see him, she will kill him if she doesn't find him manly. After she discovers Ranma's a Gender Bender and determines that his actions are still manly enough for the contract, she deems the curse isn't a failure in and of itself, but she is still perfectly willing to carry out the Seppeku ritual if she feels that his conduct isn't satisfactory... Yeah, Ranma's family is pretty screwed up.

Ranma's family life is less messed-up compared to Konatsu's, though. While his parents were loving towards him, they both died when Konatsu was young, leaving him in the care of his abusive stepmother and stepsisters, who treated him less like a family member and more like a slave. Small wonders, then, that he considers being in the care of Ukyo, who's not exactly generous towards him (her daily allowance to him was a paltry 5 yen, and that's before she found out Konatsu was a guy harboring a crush on her, which she then took advantage of by making him work double-time without pay), a heavenly upgrade.
Although it's not highlit, Principle Kuno was himself an appalling father figure to his son, with flashbacks showing him verbally abusing Tatewaki, forcibly shaving him bald over and over, and hanging him from a tree by a rope. The abuse was so sincere that Tatewaki suppressed all memory of his father when the latter went on sabbatical to Hawaii, and even after he returns, absolutely refuses to acknowledge the man as his father, even kicking him out of the Kuno estate.

In the latest manga of Rumiko Takahashi, Rinne, Rinne's dad Sabato seems to have studied at the Genma Saotome Anything Goes School of Parenting... and then invented some more techniques of his own to enhance his massive jerkass status. Let's see...Daddy's been stealing Rinne's money for years, forced him to take on his debts, and is trying to get him married to take over his failing company... probably to force even more debt on him while he gets to go off skipping.
Rosario + Vampire:

Gyokuro Shuzen is an all-around bitch to all of her children. She's had nothing but contempt for her stepdaughter Moka since the day of Moka's birth, raised the sweet and gentle Kahlua to be a berserker assassin, implies at one point that she'll kill Akua when Akua has worn out her usefulness, and hates Kokoa to the extent that she put a hit out on Kokoa and forced Kahlua to try to kill her.
Hokuto Kaneshiro suffered so much physical abuse from his own father that he enrolled in Yokai Academy just to get away from him.

There's a one-shot manga by Rumiko Takahashi that opens with a son trying to escape from his parents, since they keep trying to use his bone marrow to create gold and thus solve their financial woes.
Rurouni Kenshin - Part this, part Evil Step Parents—Soujirou was horribly battered and mistreated as a slave by his much older half-brother and his family for having been born to a mistress, and became a Stepford Smiler to deal with the abuse. He eventually snapped and killed them in self-defense when he learnt that they planned to kill him and blame his death on Makoto Shishio, then a runaway from justice. However, Shishio had taken Soujiro under his wing already and convinced the kid to kill them and then leave with him...
In Sailor Moon, parental trouble shows up often. Rei's mother is dead and her father ignores her in favor of his career, to the point of missing her birthday dinners; at least Rei has her grandfather, but in the first anime, despite his good intentions, he's a pervert. Hotaru's mother is dead and her father is either possessed or possessed and crazy (depending on the canon) and, in the anime, he lets his assistant Kaorinite psychologically abuse the girl. Chibi-Usa thinks of herself as neglected, and Wiseman exploits this to implant False Memories of abuse, which is the pull he needs to turn Chibi-Usa into Black Lady.

Subverted with Minako: her comments about her mother imply this, but not only there're no actions to back it up but Word of God is that she's actually a good parent.

Saiunkoku Monogatari: Emperor Senka attentively watches over his sons and has the policy of saving each of his sons' life once; however, he does not care about their personal well-being and does nothing to prevent the power struggle that leads to the death of four of them. Similarly, Ryuuki's mother resented the fact that Senka didn't favor her, and took it out on Ryuuki himself.
The Big Bad Gyokumen Kousho in Saiyuki, who uses her daughter Liriin and her stepson Kougaiji for her own devices, including experimenting on them. She also has an attraction/crush on Kougaiji, even brainwashing him at one point to become her mindless, obedient slave.

Gojyo's stepmother was both physically and emotionally abusive to him, beating him and berating him for the color of his hair, which was a constant reminder that he was a half-breed and therefore that her husband had had an affair with a human woman. She was also sexually abusive to her own blood-related son Jien - when she was so upset she might actually do serious harm to Gojyo, he would intervene and allow her to sleep with him, since he reminded her of her husband. It's clearly implied that this was her idea and not his, although he goes along with it for his little brother's sake.
In the prequel Saiyuki Ibun, the young youkai apprentice monk Genkai's parents used his powers of foresight for financial gain, leading them to become greedy for more money and it eventually led to their deaths. Genkai realized after their deaths that not even once in his life did his parents ever touch him.

In the manga Satou Kashi no Dangan wa Uchinukenai, self-proclaimed mermaid Umino's rockstar father Masachika clearly fits into the emotionally abusive category, often shouting at his teenaged daughter and once leaving her behind in a grocery store parking lot simply because a defective shopping cart made him angry. Later it's seen that she is also physically abused, and her father eventually beats her so badly that he kills her and tries to hide the body, which Nagisa and her brother find dismembered in the nearby mountains.
Stars Align has multiple accounts of parental child abuse. In the first four episodes we already see

one of the main characters Maki get assaulted by his divorced father who forces himself into their apartment when the teenage boy is home alone.

There is also a flashback to

Itsuki's mother pouring boiling water over her son's back when he was a baby which resulted in him having several burn scars that he feels self-concious about.

It's also heavily implied that

Toma's mother is emotionally abusive.

Needless to say, those boys really have it hard in this anime.
Zigzagged with all the characters in selector infected WIXOSS: it's heavily implied Ruuko's mother was abusive towards her out of some fear of her, possibly due to mental illness and abandoned her at some point. However Ruuko's grandmother, who is essentially a surrogate parent is very kind and loving to Ruuko. Ruuko's father remains unknown other than there were likely marital problems. Hitoe's own mother and father are Good Parents who become deeply concerned when she suddenly withdraws and grows deeply depressed

from her wish of making friends being tainted.

Akira seems to be abusive towards whomever is caring for her, Iona seems to live a life of high privilege and it's implied she's treated well. The series antagonist. Mayu is parallel to Ruuko having been neglected and abandoned by her parents but doesn't have a kind surrogate in replacement. We don't see Yuzuki's or Chiori's parents but nothing indicates a bad home life with them.
There is something unsettling about Kyouko's mother in Skip Beat!. The few scenes we see of her is when she is openly berating her then six-year-old daughter for not being academically perfect, and then ignoring her. Next we know, Kyouko is living most of her "family" life with Shou's family, the Fuwas, who are quite cold to her while planning to make her either marry Shou or shape her into the heiress to their ryokan but she still sees them as warmer than her mom. By the time Kyouko has snapped out her pathological search of affection and is trying to live in another city, it has become more than obvious that Mrs. Mogami just plainly doesn't care for her, not even to seek fame because of Kyouko's increasingly notoriety.
In Soul Eater, Medusa's Moral Event Horizon moment was stating that Chrona was her child (in light of everything she did to them).
Zigzagged in Space Patrol Luluco . As a card-carrying unfettered Space Pirate, Lalaco Godspeed isn't exactly prime parenting material, having run off when Luluco was a child and beating her up for getting in the way of a heist when they finally reunite. That said, she does care about her daughter, as demonstrated when she expressed genuine pride in her character growth and gave her full support in helping her confess to the boy she liked (pirate crew and Cool Starship included).
In Speed Grapher, heroine Kagura experiences a number of forms of abuse. Her mother, Shinzen underfeeds and generally mistreats her, is cruelly insulting, and is shown slapping her on a couple of occasions, since she has hated Kagura almost from birth because

Shinzen's doctor and husband/Kagura's father ran out on them when Shinzen was still pregnant

. Also, Suitengu having Kagura be the "goddess" at his club, with Shinzen's approval, is pretty damned close to sexual abuse, given that her role is to kiss a bunch of creepy perverts. She seriously lucked out when one of the guys she kisses, Saiga, turns out to be an Anti-Hero who decides to return the favor by protecting her from Shinzen.

Two of Suitengu's debtors shown in the series committed Financial Abuse — the first smashed his son's piggy bank to try and pay part of the debt, and the latter was going to try to sell his daughter to Suitengu (also some sexual abuse, given that he did this because of a mistaken impression that Suitengu was a pedophile. Too bad he pressed Suitengu's biggest Berserk Button (sexual abuse of children) and ended up dead).

Head

in Star Driver has shades of this in regards to his son

Takuto

. He didn't care for his child at for most of his life and when he shows up on Southern Cross Island more sees him as nuisance rather than anything else. But then

Takuto

starts tearing down his organization's Cybodies one by one and when it's

Head's

turn to fight the boy, he gives him the most brutal beatdown this series has experienced until that point and seems to absolutely enjoy it. Around the middle of the series, he mentions that he is not interested in killing

Takuto

, but once the finale rolls around, it's quite obvious that he has changed his mind completely. Not only does he put up another very brutal fight, he also uses

Samekh's powers

to resurrect a whole bunch of fallen Cybodies to home in on the boy all at once, commanding them to kill him. And then there's the fact that he manipulates and uses

Takuto's

friends left and right for his personal goals, abandoned the boy's mother when she was just barely pregnant, and even tried to manipulate

Takuto

himself at one point (though that didn't work), among other unrelated but nontheless evil things the guy did. What a great father.
Miyu's mother in Super Gals indicates her utter distaste for her daughter. With the exception of providing her with the bare necessities, she fails to provide any love and compassion.

Miyu dramatically demands her mother's attention in the first season only to continue getting the cold shoulder with a harsh response of "I see the man who left me in you"

.

The version of Washu from the original OAV version of Tenchi Muyo! has one particularly infamous scene that makes her appear to be less than a standard mother. Specifically, the scene where she captures Ryoko, binds her to a table, and then wanders off, leaving her trapped and alone in the dark. This hits such traumatic memories for Ryoko that the hardened Space Pirate bursts into tears and starts screaming for "mommy" to come and save her, unaware that Washu is gleefully eavesdropping from around the corner and taping Ryoko's complaints. Presumably so she can hear Ryoko call her "mommy" whenever she wants to, because Ryoko normally refuses to acknowledge Washu as her mother.
The fact that Tiger & Bunny's

Yuri Pretov

/Lunatic had an abusive father as part of his Freudian Excuse is probably not too surprising. The fact that said abusive father was an emotionally destroyed, alcoholic Mr. Legend? Much more surprising.
Tokyo Ghoul: After the death of his mother, Kaneki moved in with his aunt, who resented the fact that he was academically better than her own son and did such things as throwing away his books For the Evulz; eventually, she just stopped feeding him, instead giving him money to buy his own food. To add insult to injury, it's revealed in the sequel series that Kaneki's mother, who he had previously described as gentle and kind, was in fact prone to flying into rages and beating him, with Kaneki having repressed his memories of her doing so.
In True Tears, Shinichiro's mother hated the deceased mother of Hiromi, who has taken up residence with Shinchiro's family. She makes Hiromi very aware of this and is a driving factor in turning Hiromi into a very emotionally repressed girl.
Mr. Fujinami, of Urusei Yatsura, fulfills at least several of the types of abuse in regards to his daughter Ryuunosuke. Apparently solely because of his insane levels of chauvinism, he is convinced that a "mere" girl is unable to run his precious (run down) tea shop, and so he has forcibly raised her as a boy, despite her protests, since her mother Masako died left him. He refuses to allow her to buy any feminine clothes, both by refusing to give her money to do so and stealing/destroying any she does manage to get, demands she speak in masculine fashion, refers to her only as a male, frightens off any boys she acts interested in, encourages girls who are attracted to her, insults and mocks her femininity, and otherwise goes out of his way to thwart any attempt by her to discover her feminine side. He routinely enforces his desires with violence, and though she is quick to degrade him and beat the tar out of him in return, he always manages to beat her. For some insane reason he has dozens of pictures of himself, baby Ryuunosuke and women hired for that purpose posing, so many so that even he can't remember which one of them is the real Masako Fujinami, and so Ryuunosuke will never know what her mother looked like (although he has claimed at least that Ryuunosuke looks right like her mother -and Lum checked it with a lie detector only in case-). Despite his daughter's extreme distaste and discomfort, he set up for her an Arranged Marriage with a male-to-female Wholesome Crossdresser, Nagisa.

Ataru's parents are not a sterling example of parenthood, either. Both of them go from stating they want to protect their son, even if he is an idiot, to stating how happier their lives would be without him.

In ...Virgin Love, Kaoru's mom neglected him for her relationships and then blamed him when they went sour. His emotional isolation and fear of relationships stem directly from not wanting to be her.
In The Wallflower, Kyohei's mother repeatedly tells him that she wishes he'd never been born, and she wishes he'd never had his face. It's what causes him to be living with the other boys in the first place. This leads to a very poignant moment in the anime

where Sunako witnesses the abuse, then repeats some of the words to him in a fit of rage. This causes Kyohei to run away and join a biker gang until he is lured home by Sunako's fried shrimp

. In the live action version, this causes a Tear Jerker episode

when Kyohei reconnects with his mother and makes her a special lunch from one of his fondest memories. The memory is not fond for her, however, and she snaps, screaming all of the abuses of his childhood at him as she breaks down. Later on, his father shows his abusive side, by demanding that Kyohei stay out of their lives for good

.
Welcome to the N.H.K.: It's revealed that

Misaki was physically abused by her stepfather. The abuse ultimately caused her mother to commit suicide through falling off a cliff. The abuse also caused Misaki to find someone else she thought was more else worthless than herself as a result of the abuse, causing the plot of the show.

In With the Light, the fathers of Eri and Oki are the main offenders. Eri's father intimidates her and beats her mother regularly. Oki's father beats his son and keeps the house is a state of squalor after his wife leaves. A few other frustrated parents approach this at various points in the story (even Sachiko, who hit Hikaru in frustration a couple of times, admits this to herself), yet they never quite get that far.
Kohane's mother in xxxHoLic sees her daughter only as a financial asset, and maintains her as such. Afraid that anything "impure" would disrupt her powers as a medium, Mrs. Tsuyuri forbids Kohane from having any friends and from talking to people. (This culminates in her throwing scalding hot coffee at Watanuki's face after she finds Kohane eating dinner with him.) Watanuki also notices that she refuses to call her daughter by her name or even touch her.

It goes into physical abuse after Kohane points out to her mother that the reason she never touched Kohane

was because the mother thought of herself as unclean

. She viciously slaps Kohane on live television and would have done it again if Watunaki hadn't protected Kohane.

Kousei's now deceased Ill Girl of a mother from Your Lie in April was emotionally and physically abusive towards him. She was a Stage Mom who overworked him from a young age and forced him to miss school to practice the piano. He often couldn't play with friends due to having to practice. She even beat him up in public. She has a Freudian Excuse, She was scared of how he would be once she finally died. She wanted him to be skilled enough to become a professional pianist and support himself after her death. It doesn't excuse her actions in the end though. After beating him after a performance one day, the then twelve year old Kousei snaps and tells her she should die. She does just that not too long later and Kousei heavily regrets those were his final words to her.
Yu-Gi-Oh!

Emotional and implied physical abuse of Seto Kaiba by his adoptive father, Gozaburo. Also emotional neglect of Mokuba, and in the second series anime version his actual son, Noah. Backfired.
According to another source, Seto fired his parents.
Ryuuji Otogi in the manga, where his father is a crazy clown who carries a whip and uses it on Ryuuji in front of his friends, as well as emotionally abusing him through the guilt-trip of telling Ryuuji he's the only one who can save his father. Cue issues and Ryuuji very cautiously telling his father that it's wrong to want revenge.
Katsuya Jounouchi has a drunken father who throws bottles at his friends when they try to visit, under the impression that they're Jounouchi.
Malik's father cuts scars/tattoos into his back as part of a coming-of-age ritual, ignores his eldest daughter, Isis, and uses his adopted brother, Riishid, as a whipping boy. Malik's alter-ego gets revenge.
Played for laughs inYu-Gi-Oh! The Abridged Series where the worst part of their ritual was being forced to watch Beverly Hills Chihuahua.
In the second series anime version, Filler Villain Dartz goes insane and tries to kill his own daughter and father... although in that case, it wasn't his fault.

In the manga version of Yu Yu Hakusho, Mukuro's stepfather had her outfitted at birth with cybernetics that allowed him to use her as his obedient Sex Slave. Which he did the moment it was finished. He raped her constantly throughout her childhood until she finally mutilated herself with acid so that he wouldn't want to touch her any more, whereupon he threw her out and abandoned her. And did we mention that he implanted an artificial memory of him having once treated her with kindness, so she would never be able to bring herself to kill him no matter how cruel he was? In the end, Hiei obtains a demonic plant called a "pseudo creature" from Kurama and uses it on him, turning him into an immobile half-plant thing that can still feel everything, but will regenerate any wound except for the destruction of its brain. He then gives him to her as a birthday present — and as well as telling her that her memory of his kindness was a fake, so she is now truly able to do whatever she wants to.
Yu Gi Oh ARCV: Reira Akaba suffers from post-traumatic stress disorder, and goes into a dissociative state as a survival mechanism. Himika, their adoptive mother, fully takes advantage of this and uses Reira as an obedient tool against the Big Bad. She's also heavily implied to be very strict and unforgiving of any weaknesses from Reira. Tellingly, the sight of their mother nearly causes Reira to become a Nervous Wreck. She later comes to regret her treatment of Reira after their Heroic Sacrifice, and becomes a more caring mother for the reborn Reira.
Yuureitou:

Satoko is terrified of her strict father.

He's shown to have been molesting her for years and probably isn't even her biological father, which causes her to loathe him after learning the fact.

Tetsuo

's mother once tried to leave him to die because he's a trans man and she didn't accept that, wanting him to be a feminine lady.

Sherry Belmont's mother from Zatch Bell!. It's hinted in the flashbacks that whenever she tried her best at something to please her (like playing the piano), she snapped at her for the slightest mistake. She abandons Sherry for stealing the family jewel, which she didn't, and hasn't seen her since. Sherry was about to kill herself because of the abuse before her friend Koko came along. At least some things get better for her later.
---